Dear Friends of Resource Bank,

Perhaps some of you may remember that in 2008, during what became known as the "Great Recession", I wrote a letter to our customers. The purpose of that letter was to share our unwavering belief in the future and reaffirm our commitment to our clients. We said we were in it for the long run, and in the end we all persevered through difficult times.
I never expected that I would be writing another letter of such importance. Once again, we find ourselves in the midst of unprecedented circumstances. This time we are experiencing uncertainty and anxiety related to the COVID-19 virus. Justifiably, we are concerned about the pandemic's potential impact on the health not only of our community and loved ones, but of its economic consequences as well.
We want you to know that true to our "Rock Principles", we are committed to remain with you no matter the challenges, and together, we will see this national emergency through to the end. Let me share with you what we are doing to safeguard our customers, community, and staff:
First, and I want to emphasize this, Resource Bank remains rock solid, and we are prepared for adversity. For years, we have prepared and tested our Business Continuity Plans. We have the capability to serve our clients and communities under a variety of scenarios, and we have redundant operational and information technology systems that are capable of providing service to you from multiple disparate locations no matter the circumstances.
Second, beginning on Friday, March 20th, in order to reduce the potential for exposure and transmission of the virus, we will be closing our lobbies to normal business until further notice. All of our drive-up facilities at all locations will remain open at this time for routine teller transactions and where available, US Postal services. Throughout the bank, insurance agency, and trust and investment departments, we expect that our advisors will be available during normal business hours for telephone calls.
Third, credit reliability is a hallmark of Resource Bank. What this term means is that we always, always strive to work with our customers when they experience adversity. The coronavirus has already disrupted the lives of our customers, and will continue to do so, for some time. We have a variety of programs available for payment relief, and we are committed to assisting you whenever possible with compassion and understanding.
In closing, dear loyal customers, please know that regardless of the circumstances, we will continue to serve you with integrity and pride as we have since the bank's founding in 1901. If you have any questions or comments, I welcome your call. Please contact me directly at 815.748.5001.
Sincerely,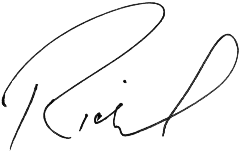 Richard Katz
Chairman and President