Resource Bank Kickoff-for-Kash Winner 2021
Colleen Fitzpatrick was the winner of the 2021 Kickoff-for-Kash $10,000 grand prize on October 1st, 2021 with DeKalb player Toriano Tate returned the second-half kickoff for a touchdown!
The final game of the DeKalb High School football season saw a $10,000 grand prize winner of Resource Bank's Kickoff for Kash! Colleen Fitzpatrick won $10,000 when DeKalb's Toriano Tate returned the second-half opening kick-off for a touchdown. Be sure to stop by the first DeKalb High School home boys basketball game on December 10th to see Colleen receive her BIG check, courtesy of Resource Bank! Congratulations!
Resource Bank has been sponsoring the Kick-Off For Kash program since 2007 as a way to support local high school programs. The Sports Boosters of Hiawatha High School, the Science Fiction Club of Sycamore High School and the Sports Boosters of DeKalb High School, Genoa-Kingston High School, and Hampshire High School retain all proceeds from ticket sales for their program needs. Each school offers tickets for purchase at their home games, and the winning ticket is drawn that night. The raffle ticket winner is announced before the kick-off. If that person is present and the home team returns the half-opening receiving kick for a touchdown, that person wins the grand prize.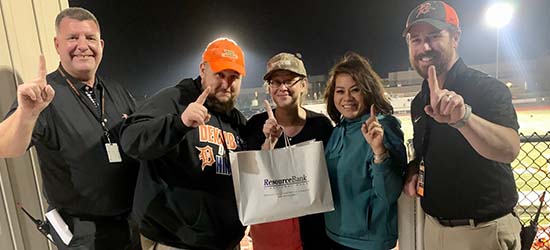 (Left to Right: Peter Goff, DeKalb High School Athletic Director; winner's husband; winner Colleen Fitzpatrick; Tho Pham; Pete Kempf, DeKalb High School Football Coach)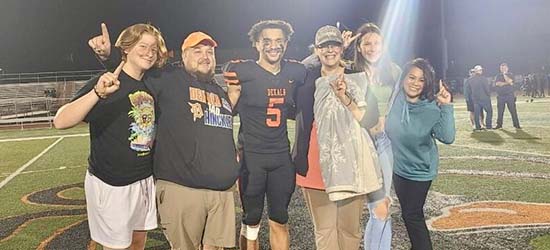 (Colleen Fitzpatrick and her family pictured with Tho Pham and Toriano Tate (#5) on the DeKalb football field)